Building our own SIPs house
Aug 20,2002
Ground breaking day!!

After an unusually wet July and Aug, we have been blessed with some rain free days around our house. T-Storms all around but they miss us. :) The crew I hired to form and pour the concrete are definitely not the best. I had several good recommendations about this gentleman. But instead of doing the work himself, he sent his son and a crew to construct the forms. Two days in a row, the son is sleeping in the truck while the crew does the work. On the second day, I jumped his case. I let him know that I'm not paying him to come to my house and sleep.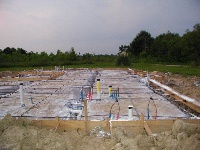 I should have let him sleep. I think the only thing he did was to form up the front porch area of the house. The front porch extends out three feet. And I'll be damn, if he didn't form it out of square by almost three inches over that three foot distance. And to make matters worse it slopes up almost an inch in the same distance.
Of course I did not notice this until after the concrete is poured, and I actually started framing up the house. :( With $25,000 of material sitting on site, and the vendors are waiting to be paid, you find yourself in a corner because the bank will not advance the money until a certain stage of framing, etc. is completed. So, if I sue them, or try to have it redone, I am out a lot of time and money.